Hot Pick Results From 2018 Previous Days
Last Weekend Profits (Thursday May 3rd – Sunday May 6th)
April 14, 2018 – Last 7 Days Profits
March 29 – April 9th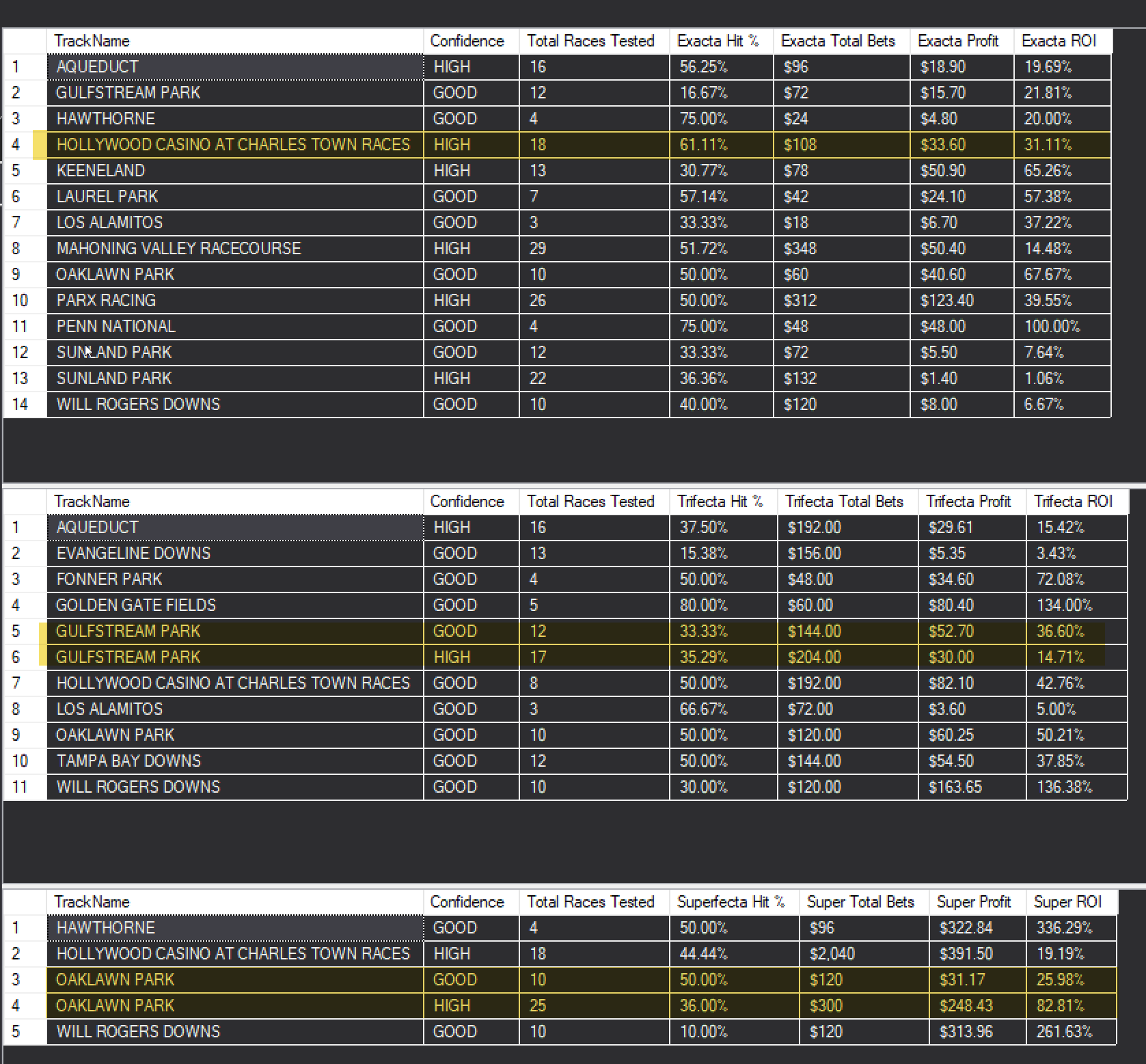 March 29 – April 4th 7 Days of Profits.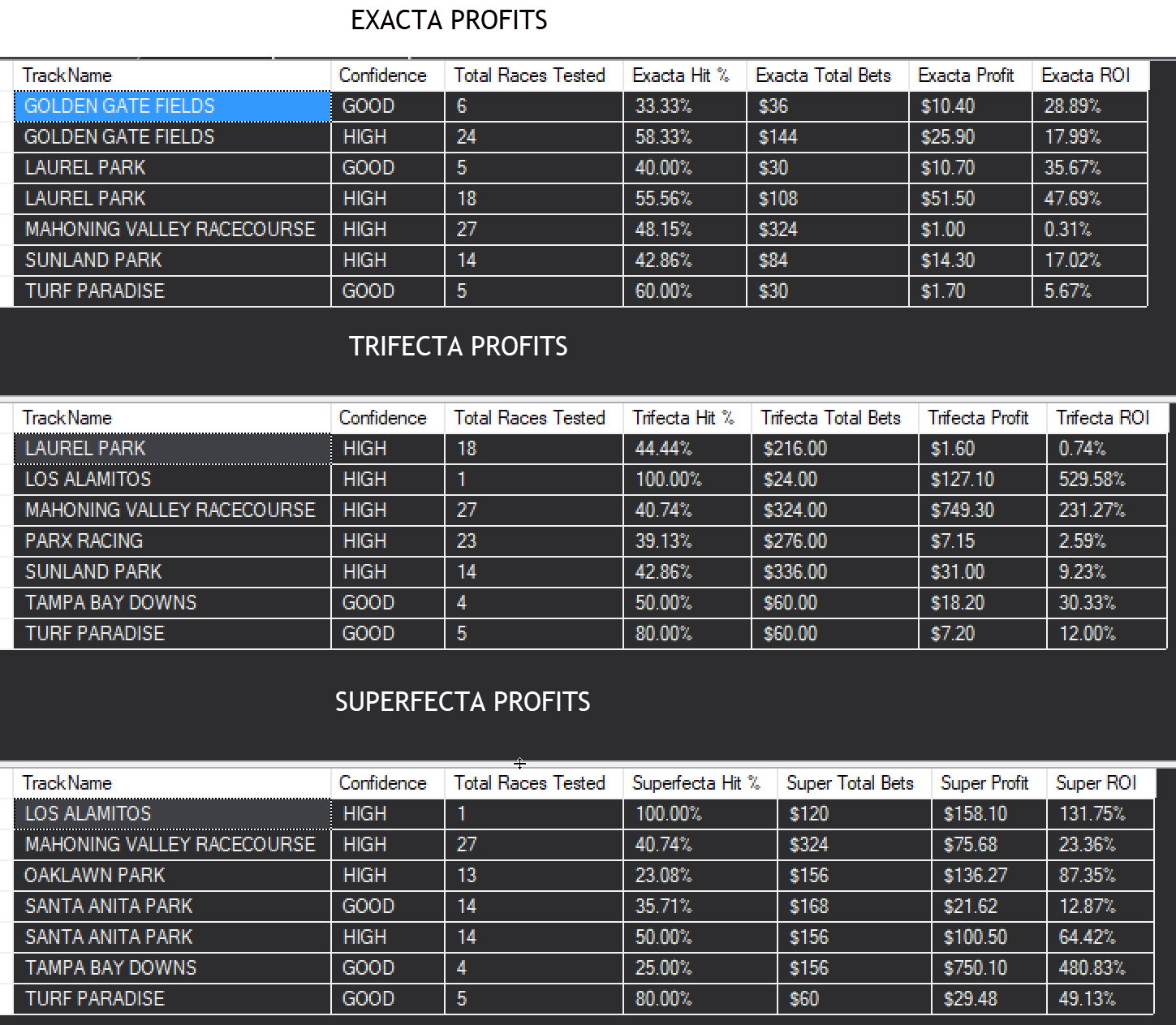 March 29th, 2018 Thursday
Charles Town and Fair Grounds High/Good Confidence Picks performed the best, here's all the profitable tracks on this day:
March 28th, 2018 Wednesday
Tampa Bay and Will Rogers Downs High/Good Confidence Picks performed the best yesterday followed by Charles Town and Turf Paradise :
March 21 – 27
Penn National, Golden Gate, and Santa Anita High/Good Confidence picks have all performed the best in the last 7 Days.  Here's all the profitable tracks from the last 7 days: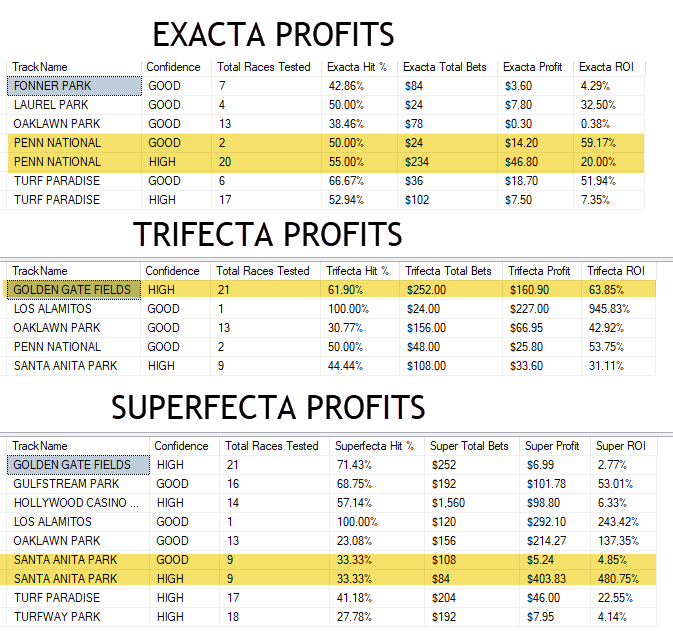 Last 7 Days March 15th – 22nd, 2018
Exacta Profits:
Trifecta Profits:

Superfecta Profits:
Thursday March 8th, 2018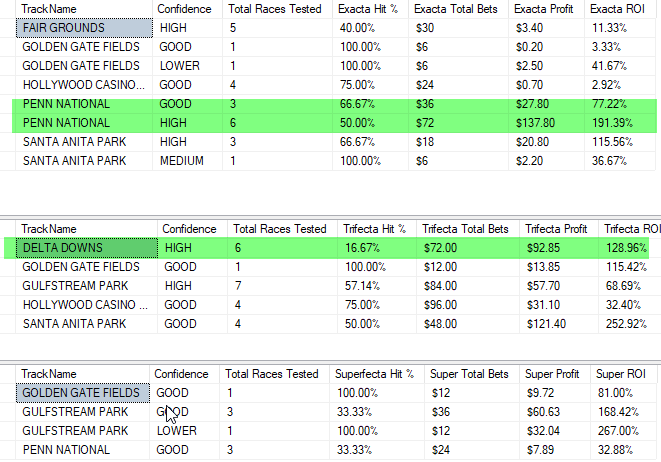 Wednesday March 7th, 2018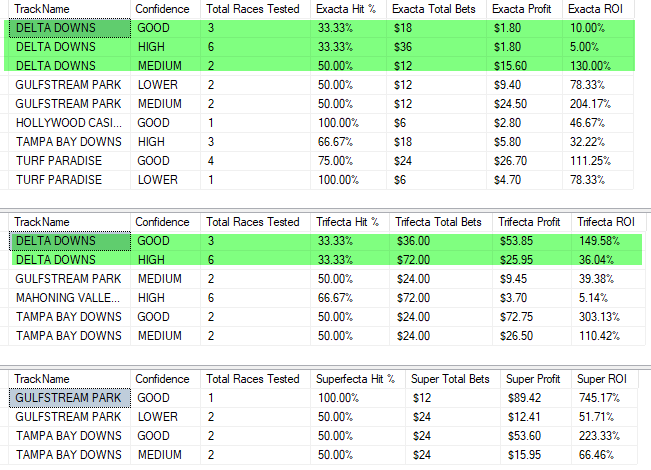 Saturday March 3rd, 2018
Supers:
Trifecta's
Exacta's;
Thursday March 1st, 2018
Turf Paradise Performed well again.  Here's all the profitable tracks grouped by pick confidence: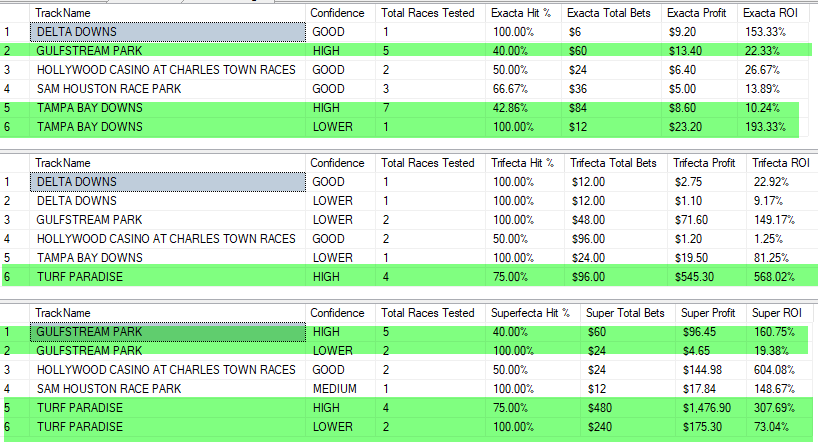 LAST 2 DAYS – Monday Feb 26th and Tuesday Feb 27th, 2018
Gulfstream Park and Santa Anita Special Picks always perform the best.  But if looking to play other tracks, Turf Paradise Premium Picks performed very well the last two days hitting 4 out of 10 High Confidence Exactas for a 55% Profit/Return on Investment and 4 out of 10 Trifectas for a 35% ROI.
Cumulative profitable tracks from last two days grouped by Pick Confidence: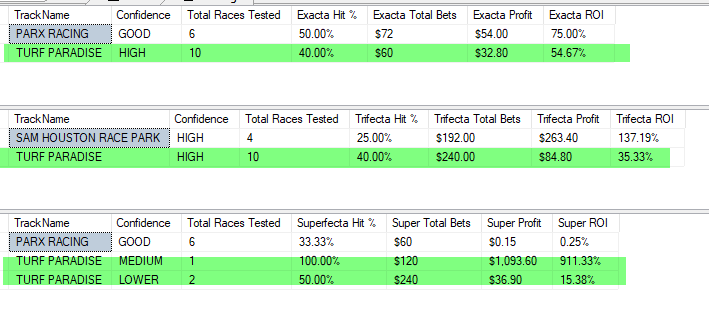 LAST 30 DAYS – JAN 22 – FEB 22, 2018
February 17th , 2018 – Friday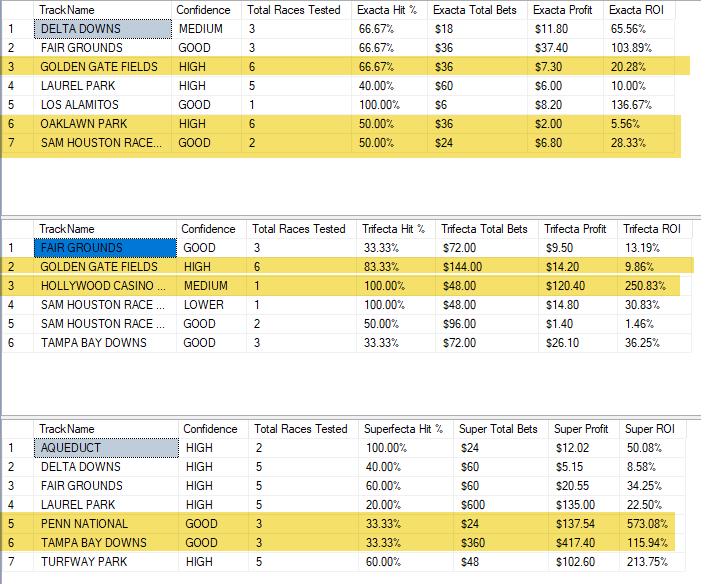 February 16th , 2018 – Thursday
Golden Gate's Picks continue to perform well earning a 33% ROI for High Confidence Exacta Picks.  But Oaklawn Park performed the best earning a 396% ROI for High Confidence Trifectas!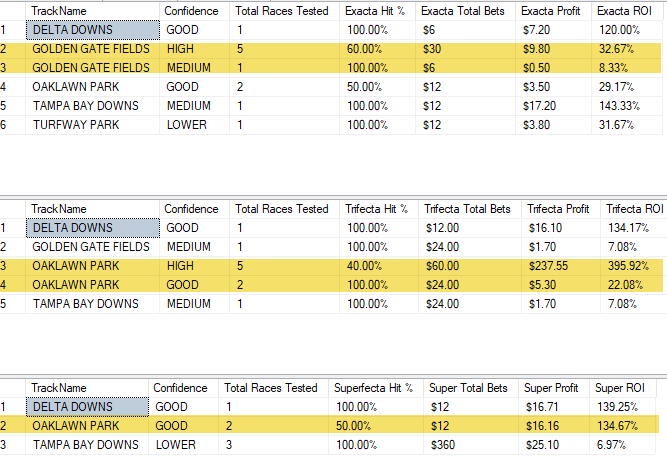 February 13 – 14th , 2018 – Tuesday – Wednesday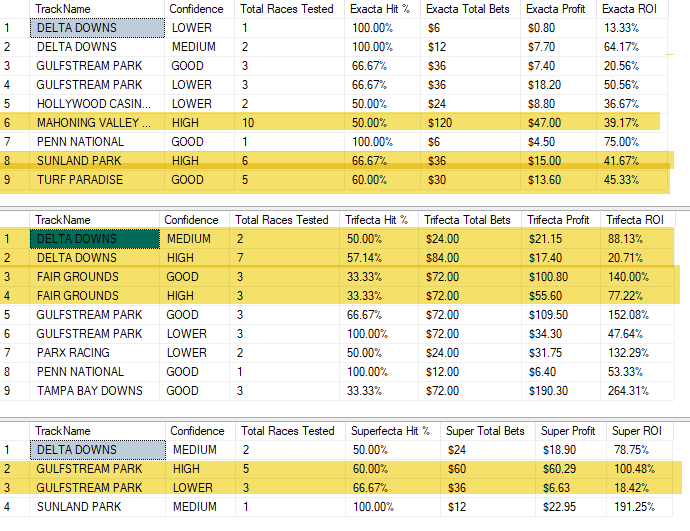 February 11th – 12th, 2018 Sunday – Monday:
February 11th, 2018 Sunday
February 10th, 2018  Saturday
February 9th, 2018 Friday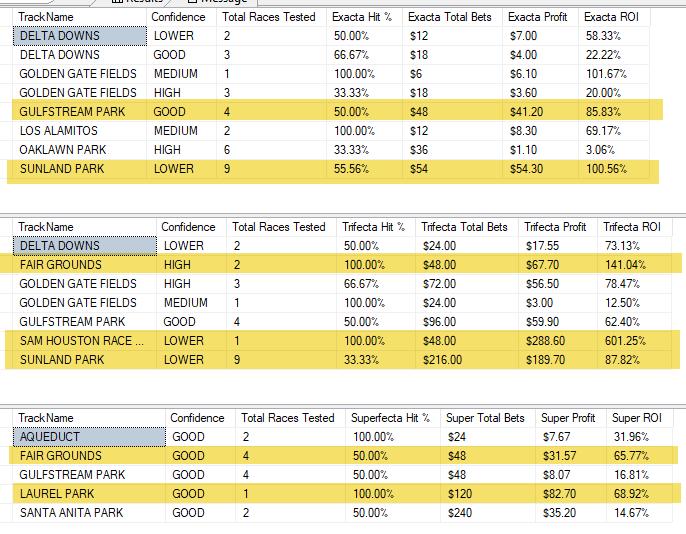 February 8th, 2018 Thursday

February 6th Tuesday – February 7th, 2018  Wednesday
Sam Houston Race Park picks performed very well Wednesday with High Confidence Trifecta's returning a $1,046 profit!
Picks for the following tracks were profitable (Tuesday Feb 6th – Wed Feb 7th) broken out by Pick Confidence with the highest profits highlighted:
February 5th, 2018  Monday
February 4th, 2018  Sunday
February 3rd, 2018  Saturday
Three consecutive days of high profits at Charles Town and the Biggest profit yesterday was at Golden Gate Fields with a $1,403 High Confidence Superfectas Profit!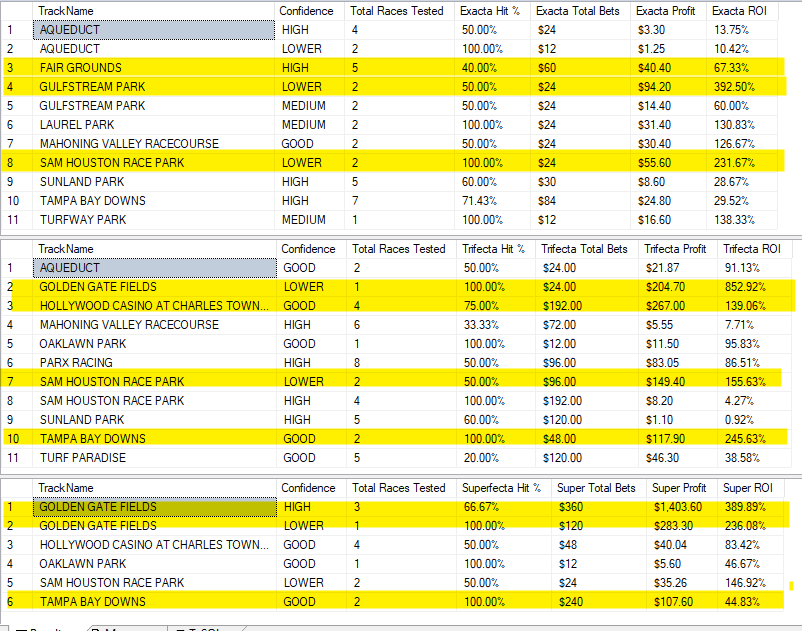 February 2nd, 2018  Friday
Charles Town kicking butt with a $661 High Confidence Trifectas Profit.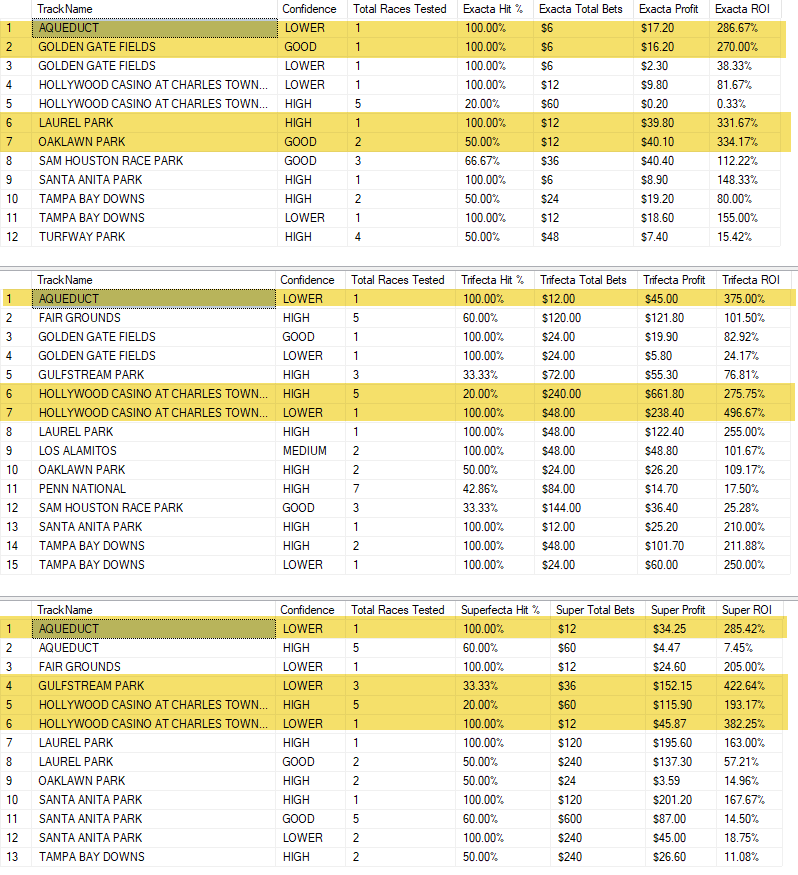 February 1st, 2018  Thursday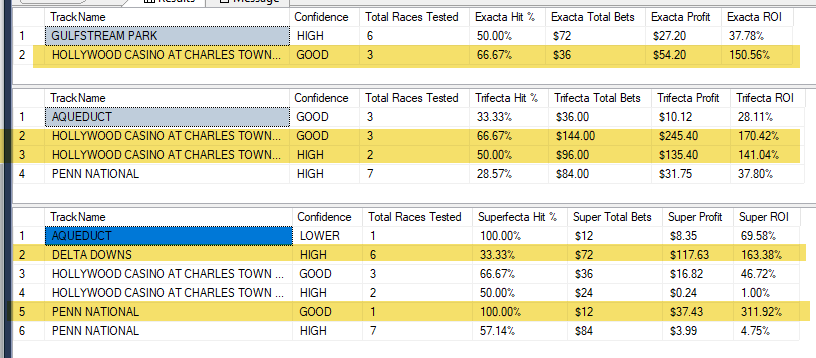 January 28th, 2018  Sunday – January 31st, 2018  Wednesday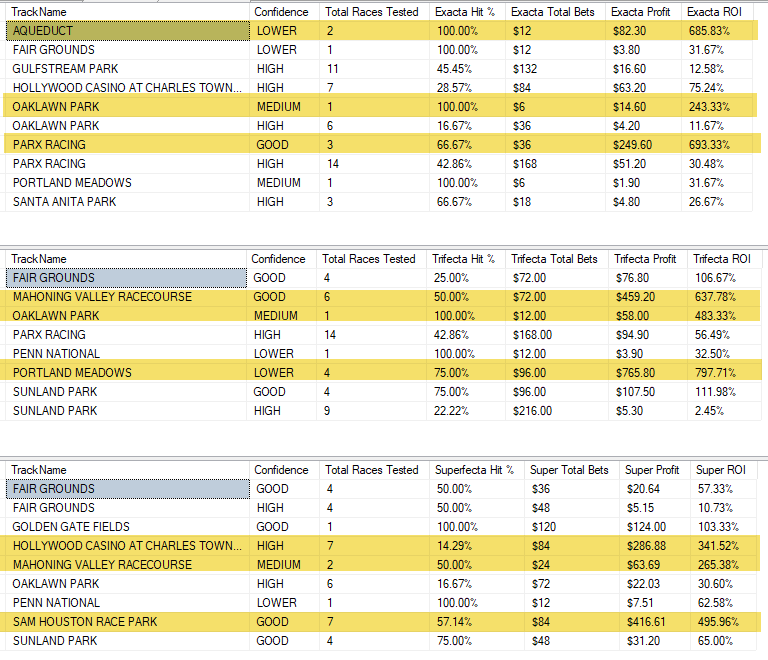 January 31st, 2018  Wednesday

January 30th, 2018  Tuesday
January 29th, 2018  Monday

January 28th, 2018  Sunday
Best payoffs from Sunday were at Oaklawn Park and Sam Houston.  Should be noted that both these tracks are in the Top 10 for being friendly to horse players with big fields and low takeout:  http://www.horseplayersassociation.org/2017Sortable.html

January 27th, 2018  Saturday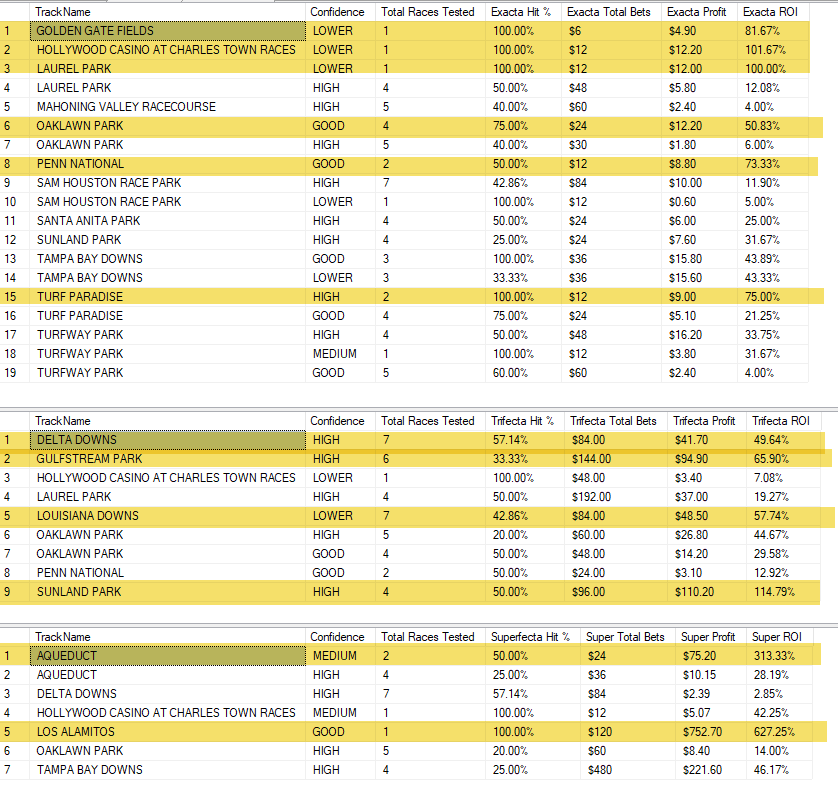 January 26th, 2018  Friday

January 25th, 2018  Thursday